BOYLE CUP WIN – on 6th Challenge!
The highlight for Rawhiti Golf Club women's section was a win against Waitikiri in the 6th and final Boyle Cup challenge for 2016. This 3-2 win secured the cup in our trophy cabinet until next year when a further SIX challengers will be balloted from interested clubs.
Well done to our team of Denise Tovio, Kyrene O'Donnell, Di Barnes, Janine Morris and Jude Davis. Special thanks to the caddies and supporters over all the challenges.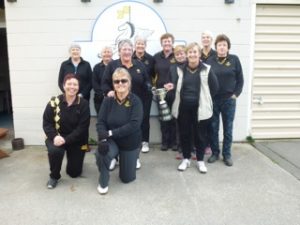 SAMOAN GOLF ASSOCIATION OPEN TOURNAMENT
This was again a very successful tournament enjoyed by a full field – always a great day with lots of singing. The traditional kava drink for the winners was well received.
RAWHITI CLUB CHAMPIONS
Congratulations to the Rawhiti Club Champions for 2016 –
Women:
Senior – Denise Tovio
Intermediate – Janine Morris
Junior B – Lynette Zilinskas
Men:
Senior – Tiaki Davis
Intermediate – Robert Shingleton
Junior A – Andy Lyell
Junior B – Paul Bennett
Stroke Play Champs – Senior, Tiaki Davis. Intermediate, Joe Ah Koui. Junior A, Phil Henderson. Junior B, John Tua
Other Trophy Winners:
Mid-Winter Stroke – Tony Faitaua & Sean Beaumont.
George Horwell Trophy – Mene Mene & Stuart Upton, Charlie Hodgson & Chris Vesty
Cy Shaw Memorial – Mene Mene, Barry Ruff