BOYLE CUP
Following the great win for our women's team over Clearwater a couple of weeks ago, the next challenge is against Weedon's Golf Club on Thursday 23 June. With this being the fourth defence of the trophy, we wish our women 'good luck' to add to their 'good golfing'. All challenges have been closely fought and we know that this will be yet another battle.
CANTERBURY GOLF AWARDS
Congratulations to Mene and Sally Mene on being named Trevino's 'Volunteers of the Year' at the Canterbury Golf Awards held last Friday evening. Their work over the past year has been well recognised and they know too well that their efforts have been fully supported by members of the club who have given their time voluntarily to help 'man' the pro-shop, assist on the course and attend numerous 'working bees'.
With one full year behind us since the club took over running the shop it has been very satisfying to see the progress made. The course is also looking better than is has in many years.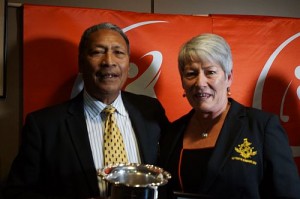 Mene & Sally with the trophy as 'Volunteers of the Year'
WORKING BEE THIS COMING SATURDAY
Reminder of another Working Bee this coming Saturday morning – 18 June, from 8.00am onwards. Report to Leon Zilinskas or Steve Forsyth.
Bring along a trailer (if you have one) to help remove branches etc from the course. Firewood is for sale to members at $100 per standard trailer load. Payment can be made at the pro-shop. Most of the wood being sold is green and is for burning next winter.
CLUB SUBSCRIPTIONS
All club subscriptions should be paid up for the current financial year which runs from 1 April 2016 to 31 March 2017. Leniency has been given to member for the past two months. If subs remain unpaid members will be unable to print cards and will be asked to pay 'green fees' in order to play on the course. DO NOT BE OFFENDED if you are asked to show your membership card as proof of payment. We all look forward to enjoying our games – unregistered players will not be eligible for 'games of the day'.